Metro tiles, also known as subway tiles, are often seen in foreign kitchen and bathroom. The Metro wall tiles are ideal for a modern and minimalistic setting. These versatile wall tiles bring clean, simple yet sophistication to the home.
These trendy wall tiles is a budget-friendly and hack-free alternative to incorporate actual bricks and metro tiles. Not only does the metro tiles visual looks like actual bricks but display a three-dimension pop up with realistic texture!
Some Metro tiles includes:
Bakuta Scrap Stone Cushion Sheet
Bakuta Metro Style Tile Cushion Sheet
Features of Brick Metro tile sheet
POINT 1: Only paste adhesive seal type
As the back side is adhesive type, it is easy construction only to peel off release paper and stick on the wall! Stick firmly with strong adhesive force.
Joints can be easily cut with scissors or a cutter!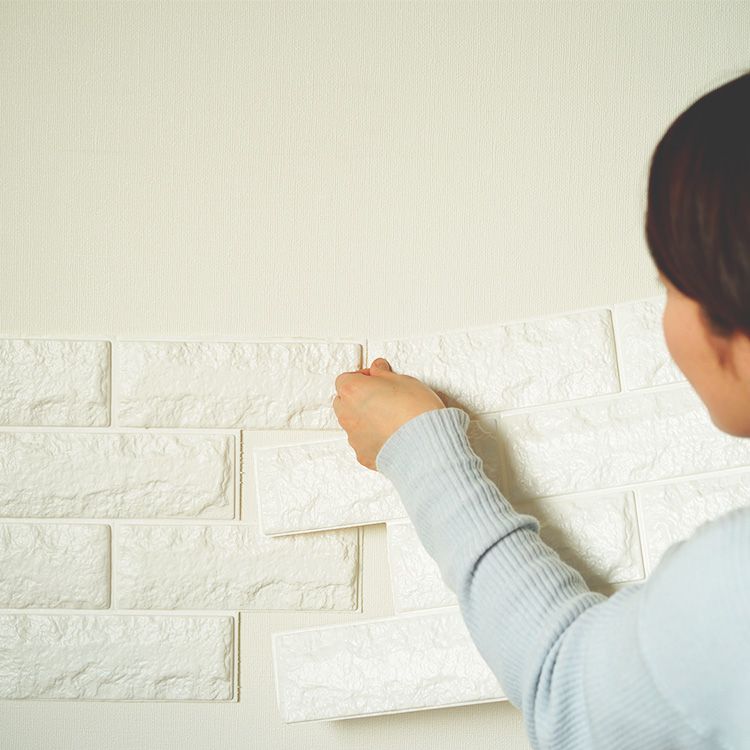 POINT 2: Shock absorbing material with cushioning material
The metro tiles features cushioning material with thickness of about 6mm-1cm, it is highly suitable for family with elderly and/or children.
POINT 3: Three-dimensional, realistic texture
The Bakuta Brick Tile sheet features a rough texture and unevenness with realistic three-dimensional effect replicating actual brick tiles.
Whereas, the Metro Tile Sheet replicates Metro/Subway tiles as seen in foreign countries. It features a more sleek and smooth texture.
POINT 4: DIY Paint
The brick tiles allows creativity by painting it to your desired colour. It is highly recommended to paint the tiles over several colours for a realistic look.
POINT 5: Hassle-free cleaning
Because the surface is a vinyl material, it can be wiped quickly even if it gets dirty.
※ Not all the dirt can be removed. If it gets dirty, please clean it as soon as possible.
POINT 6: Crease can be avoided with a Dryer
Not to worry if there is a light fold or crease, just simply blow a dryer on the crease and its fixed!
※ However, it might not work on large creases.
POINT 7: Other notable features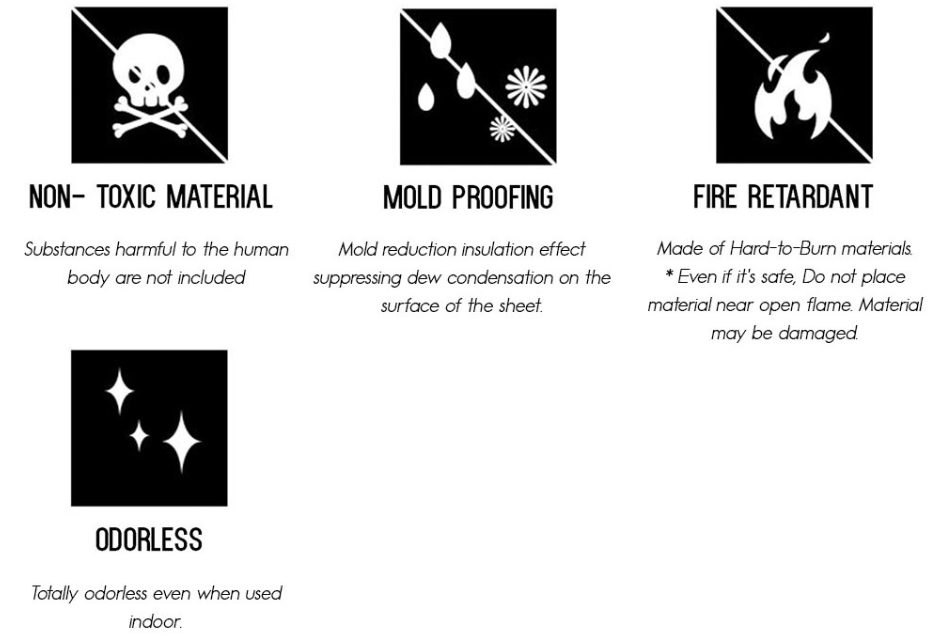 Two types of construction methods and one point advice
Tiles consist of strong adhesion that seals to the surface and sticks well. Guiding of the construction method can be requested which restores the tiles to original condition. In addition, when pasting multiple sheets, guideline will be provided for a beautiful and neat finishing touch.
Easy installation method

1. Remove the backing paper.
2. Align and stick to the wall. *Be careful not to shift as re pasting might reduce the stickiness
3. Proceed to paste the rest of the pieces
4. Cut out the sheet according to the shape of power outlet.
5. Completed!
Construction method for rental that can be removed and re-pasted
It is a construction method that can be put back even if you are staying in a rental flat.

1. Apply masking tape where the adhesive side of the sheet hits.
[How to apply masking tape]
As shown in the upper right figure, it is pasted at the position where the masking tape and the joint part of the sheet meet.

2. Make a cut in the backing paper and peel off the backing paper as shown in the upper right.
※ Caution: Strong adhesion, so please be careful not to adhere the adhesion part to the wall by peeling off the release paper too much.

3. Stick along the masking tape
4. Completed!
5. When peeling off product, slowly peel off the masking tape.
How to paste for a seamless join!
Seamless and realistic joint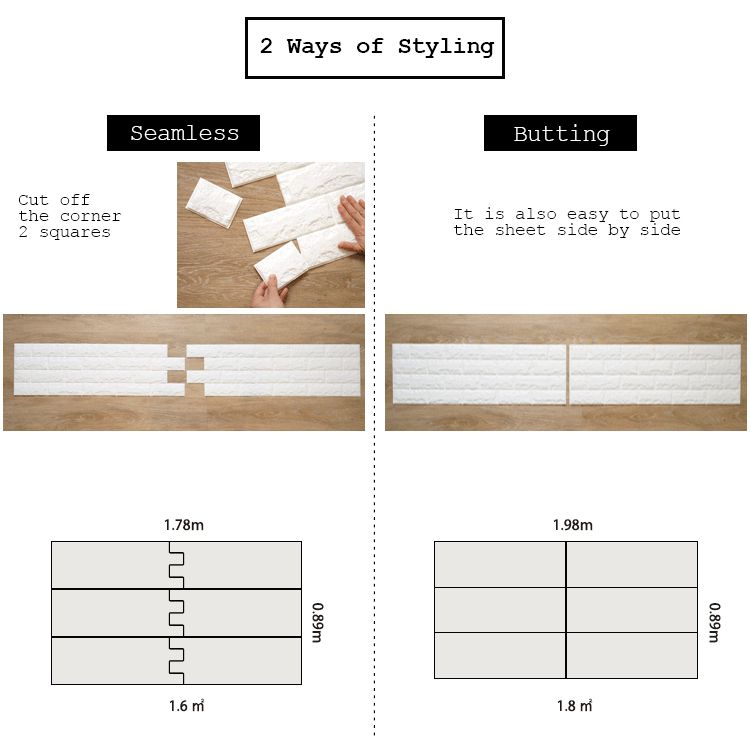 For a realistic joint, Seamless finish is recommended. Simply cut the unwanted blocks with scissors or a cutter.
As for a simple paste, Butting would be ideal. No cutting required!
You can also work around the corners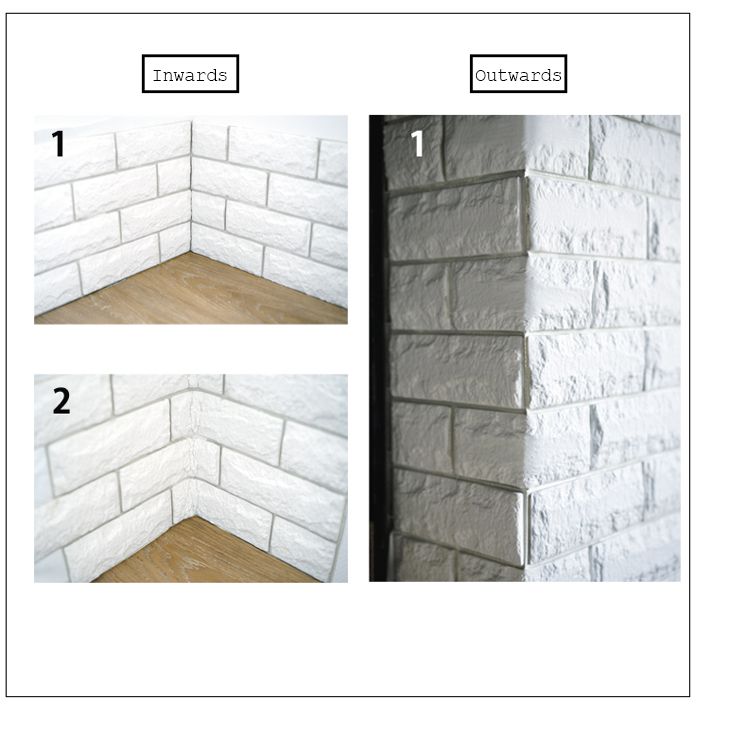 As the metro tiles are cushioning material that gives off 3D looks, it can be applied inwards or outwards corners.
Inward Corner 1: How to put together from the corner Corner
2: As it is bent and put
※ Because the product is thick, bending would cause it to be slightly wrinkled.
Outward corner 1: The method of bending and pasting as easy as it seems. It can also be used as a corner cushion guard.
Paint your own color on the tile sheet
Here are the steps:
1. Brush the base paint.
2. Apply the second color coating with a sponge.
3. Overlap with white paint for a vintage look.
4. Deliberately accentuate the joints by painting the gap.
5. Brick tiles will have the texture of vintage bricks after applying color.
Video reference for DIY tile painting

CONSTRUCTION CASES
Construction examples available for Bakuta Metro Tile Cushion and Bakuta Brick Tile Cushion.
Metro tiles still looks elegant even without paint
The metro tiles still looks neat, clean and stylish!
Paint for
If painted with a brush or a roller, the original color tile can be easily covered.
Single color for a whole different feeling, Mix color to accentuate the joints and texture.
Comments
Tags DIY How To glue without wallpaper antique interior Interior style cushion seat cushion floor putty floor tile paint paint paint rankings remake sheet underlying the underlying processing double-sided tape popular